The last couple of weeks for our family have been the kind that are filled with stories that no one could invent. Some really tough stuff and very much real Life. But there was so much to be thankful for. And so many ways to show each other love during the hard days. Along with encouraging words, giving the gift of time, and good, strong hugs, food was a way we showed love. Bringing meals to nourish and strengthen, cooking favorite foods for dear old friends, grilling steaks at my grandfather's farm because it's a tradition, a reminder of happy days, and hosting dinners to gather loved ones together and celebrate that Love wins. So, even though I didn't have a moment to jot down the latest from my kitchen during that time, I hope that when you are here at The Triangle Plate, you are inspired to show love to the people in your life with a simple meal, or a treat. In the long run, it means so much.
Here's another delicious Yotam Ottolenghi recipe. I love soba noodles, I love Asian flavors, and this is another bold recipe that won't disappoint. And all amazing flavor aside, it is just GORGEOUS to behold, don't you think? And I love that you can prep the majority of this recipe in advance, and then just throw in some fresh herbs when you are ready to serve. Perfect for an easy night with friends, or in my case this time, a night when we come home from my girls' gymnastics class starving and want dinner immediately!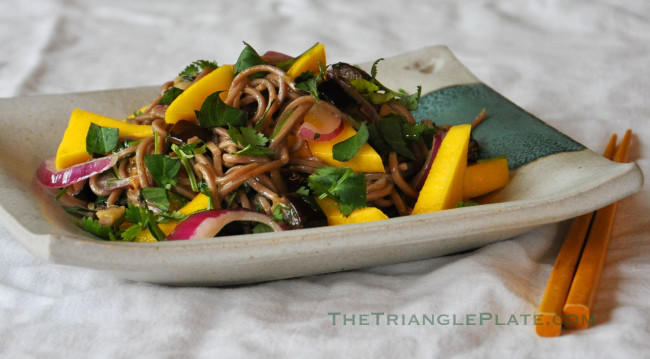 Soba Noodles with Eggplant and Mango
recipe by Yotam Ottolenghi from his book Plenty
Note: serves 6. To make this a bit more filling, I added tofu. Just use  14 oz. of organic, extra firm tofu: cut into 6 thick slices, and press out any extra water with paper towels. Heat about a Tbsp or so of olive oil over medium heat. Beat one egg in a shallow bowl, and dip each piece of tofu into it, making sure all sides are coated. Fry the tofu until golden and crispy on each side, and then sprinkle generously with sea salt and serve the slices while still hot with the noodles.
Ingredients:
1/2 cup rice vinegar
3 Tbsp sugar
1/2 tsp salt
2 garlic cloves, crushed
1/2 fresh red chile, finely chopped (I used a jalapeño because you can't get Fresnos around here yet)
1 tsp toasted sesame oil
grated zest and juice of 1 lime
1 cup sunflower oil
2 eggplants, cut into 3/4 inch dice
8 to 9 oz. soba noodles
1 large ripe mango, cut into 3/8 inch dice or into 1/4 inch thick strips (I used an extra half mango because we love it so much)
1 and 2/3 cup basil leaves, chopped (if you can get some, use Thai basil, but much less… I used about 3/4 of a cup)
2 and 1/2 cups cilantro leaves, chopped
1/2 red onion, very thinly sliced (soak the slices in cold water for 20 minutes if you love the flavor but have tummy ache issues with raw onion, like I do!)
Preparation:
In a small saucepan gently warm the vinegar, sugar and salt for up to 1 minute, just until the sugar dissolves. Remove from the heat and add the garlic, chile and sesame oil. Allow to cool, then add the lime zest and juice.
Heat up the sunflower oil in a large pan and shallow-fry the eggplant in three to four batches over medium-high heat (takes about 5-8 minutes per batch). Once golden brown remove to a colander, sprinkle liberally with salt and leave there to drain.
Cook the noodles in plenty of salted water, stirring occasionally. They should take 5 to 8 minutes to become tender but still al dente. Drain and rinse well under running cold water. Shake off as much of the excess water as possible, then leave to dry on a dish towel.
In a mixing bowl toss the noodles with the dressing, mango, eggplant, half of the herbs and the onion. You can now leave this aside for 1 to 2 hours (or so). When ready to serve add the rest of the herbs and mix well, then pile on a plate or in a bowl.