Recently, we had the luxury of a slow weekend. Of course, once Sunday rolled around, the to-do list for the week was annoyingly at the forefront of my mind… mainly because, every 3-4 hours, someone would look at me and say "I'm hungry." Again. Listen, I love to cook, I really do. But grocery shopping and errands, in general, I rather dislike. I began to read the writing on the wall: the leftovers were all eaten up at lunch, and I'd need to make a run in order to make dinner. First, there was a school project to help my Sofia with, then I was determined to get a shower in before the sun set, and I was feeling too tired to get in the car and go for a big haul. Gosh, can I tell you how I'd be a fair and gentle ruler if I could have a household staff of just, oh, say 20-50 people? Yeah, I know. The consequence of not marrying Enrique Iglesias, like my Grandma Salazar had hoped. Anyway…
So the new recipe for a leek and goat cheese galette I wanted to try went from "THE" dinner plan, to a pipe dream. But wait? I didn't have leeks, but I had lots of onions. Hmmm. Oooh! And I had a nice piece of gorgonzola dolce. Baby. Then after some rummaging in the freezer, I found what appeared to be some frozen pastry dough I'd made around the new year. Perfect. I'd just make my own version of a galette. So, I got started on the onions, and pulled the pastry dough out to thaw… Which, a little bit later I discovered, upon a closer examination, was sugar cookie dough. Foiled again. No problem. That's what my food processor is for. And so it came to be that I was creating a fun new pastry dough, since I was out of buckwheat flour (a favorite of mine for savory galettes) and even out of whole wheat flour (because I used up every last bit in the latest breadmaking recipe). Times like these remind me that it really is true that "necessity is the mother of invention." I reached for some flaxmeal.
The pastry was totally light and flaky with a subtle nutty flavor from the flax meal, and the onions and gorgonzola complimented each other perfectly. Dave poured a Kabinett Riesling which was a fabulous pairing and we suddenly felt like we were celebrating. And I was. I never did go to the store.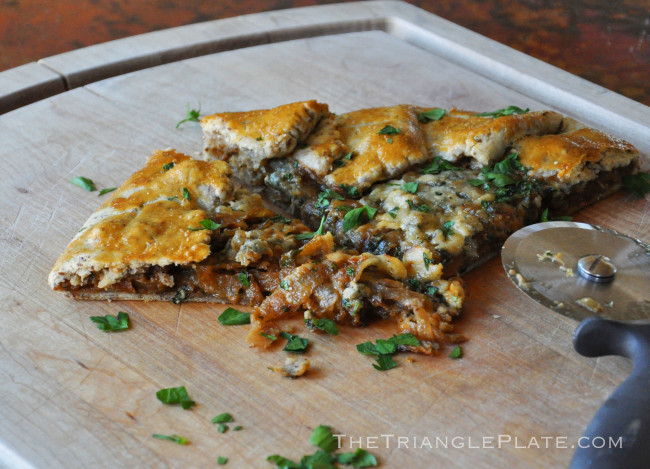 Caramelized Onion Galette with Gorgonzola Dolce
recipe by Stephanie Kunstle, inspired by Deborah Madison's Leek & Goat Cheese Galette
Ingredients for the pastry:
1 and 1/4 cup flour
1/4 cup flaxmeal
1/4 tsp. salt
1/2 cup butter cut into small pieces
about 4 Tbsp. ice water
1 egg, beaten (to be brushed on the the dough before baking)
Ingredients for the filling:
3 yellow onions, sliced in half lengthwise, then cut into thin slices
1 Tbsp. olive oil
2 Tbsp. unsalted butter
1/2 cup white wine
1/2 cup créme fraîche
salt and pepper to taste
1 egg, beaten
5 oz. gorgonzola dolce, cut into 1/2 inch cubes
3 Tbsp. parsley (keep 1 Tbsp of this reserved for garnish)
Preparation of the pastry dough:
Let's get started with the pasty dough. I love to make my pastry dough in a food processor — it's super fast and the dough is always so light and flaky. Add your dry ingredients to the food processor bowl, give it a quick pulse or two to mix the ingredients, and then add the butter you've already cubed. "Process" the butter with the dry ingredients until the butter is well distributed and is cut into little small pieces, pea-sized or even a bit smaller.
 With the food processor running, add the the ice water, one tablespoon at a time until the dough suddenly turns into one big ball.
(If you don't have a food processor, mix your dry ingredients in a bowl, and then cut in the butter with a fork or a pastry cutter. With a fork, stir in the ice water and incorporate using your hands if you need to until you have a smooth dough, but be careful not to overwork it or it will be tough).
Take your dough and divide it into two pieces and give it a good 4-5 smears on a clean countertop to distribute the butter. Mash into one ball, and flatten into a 6 inch disk. Wrap in wax paper and refrigerate for about an hour (or cheat, like I do, and throw it in the freezer for 15-20 minutes but don't forget about it!).
Preparation of the filling and galette:
In a large sauté pan, melt the butter over medium-low heat. Turn the heat up to medium flame and add the onions. Cook, stirring frequently so that they cook evenly and don't burn, until golden in color, about 30 minutes.
Turn heat up to medium-high, and add the white wine. Cook until reduced, about 2 minutes.
Lower heat back to medium, add the crème fraîche, stirring until the onions are well coated and silky and the water is mostly cooked out, about 3 more minutes. Remove from heat and allow to cool for 10 minutes.
Stir in 1 beaten egg and 2 Tbsp of the chopped parsley.
Butter or oil a large baking sheet.
Prep your clean kitchen countertop with about 1/4 cup of sprinkled flour. Place the disk of cold dough on top of the flour and give it another generous sprinkling of flour. Roll the dough out to about a 14-15 inch circle.
Roll pastry onto rolling pin and move the pastry dough to the middle of the baking sheet. Pour onion mixture into the center and spread evenly, leaving at least 2 inches of perimeter around the pastry (the onions will make about a 10 inch circle). Dot with cubes of the gorgonzola dolce and fold the pastry over the edges of the circle. Brush the pastry with the beaten egg.
Bake at 400ºF for about 30 minutes, until the pastry is a deep golden and the onion mixture is bubbling. Allow to cool for a few minutes before slicing. Scatter the remaining 1 Tbsp. chopped parsley over the top. Serve hot or at room temp.