What does chicken soup mean to you? To me? Comfort. My mom always made it when we were sick or on cold, wintry days. Everyone has their own way to do it but here's what I think makes a good chicken soup.
Brown, almost blacken, a whole onion in the pot before anything
Use bone-in chicken breasts
Always use a bouquet garni of thyme and flat-leaf parsley
Egg noodles are a must
Don't forget the salt!
So many recipes call for "stock" and in the case of this simple soup (and many others), that's just not the case. If you cook your soup with fresh ingredients and bone-in chicken, you are guaranteed to have a delicious broth.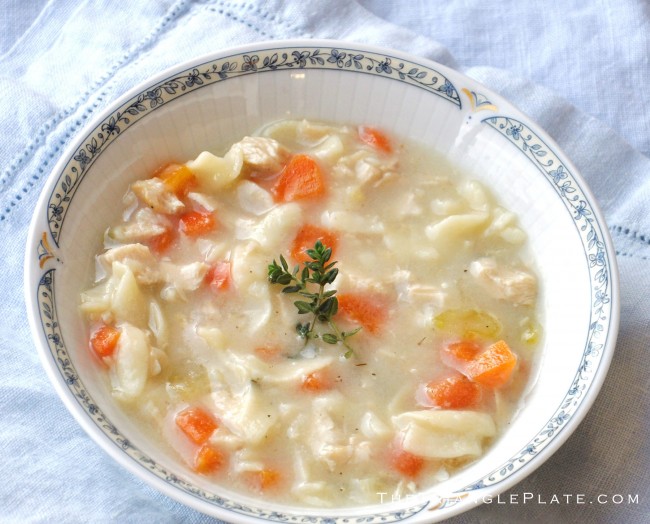 Chicken Noodle Soup
recipe by Stephanie Kunstle
Note: Soup is great the day you make it. . . but it's even better the next day! If you are using egg noodles, they like to absorb all the liquid, so don't be afraid to just add a bit of water to the pot before re-warming, and check to see if it needs salt. Serves 6-8.  
Ingredients:
2 Tbsp. regular olive oil
1 large onion, washed, skins removed, top (end that sprouts) sliced off
2 large bone-in chicken breasts, skin removed
3-4 medium carrots, peeled and sliced
2 stalks celery, both ends removed and thinly sliced
2 cloves of garlic, smashed
2 bay leaves
small bouquet garni of fresh thyme sprigs and italian parsley stems with leaves tied together well with kitchen string (mine is like a small bouquet of wildflowers you might pick, the stems all fit into your grasp).
1 cup milk (1-2% seems to be best for this, not skim, not whole)
1 heaping Tbsp. flour
salt to taste (start with 2 tsp, and work your way up with a little sprinkle at a time until you say… OH YUM!)
freshly cracked pepper, if desired
2-3 cups dried egg noodles (I like thick, short ribbons)
Preparation:
In a large stock pot, heat oil on medium-high flame for a couple of minutes and then add the whole onion. "Brown" the onion on all sides until it even has some black, charred spots.
Add the chicken, carrots, celery, bay leaves, garlic and bouquet and fill the pot with water so that the ingredients are covered by about 2 inches of water, anywhere from 6-10 cups of water or so. Depends on your pot!
Bring the soup to boil, and then turn the heat down and let it simmer for about 30-40 minutes, stirring occasionally and adding boiling water to the pot as needed, until chicken is cooked through and the vegetables are soft enough to be pierced with a fork.
Remove the chicken, whole onion, bay leaves and the bouquet from the pot, and let the chicken cool on a cutting board for a few minutes.
Measure your milk out in a liquid measuring cup, and add the flour to the milk, whisking hard until very smooth (no lumps!). Add the milk slurry to the soup, stirring, and bring back to a simmer.
Add the noodles to simmer for about 10 minutes. Meanwhile, cut the chicken off the bone, and cube the meat. Discard the bones, onion and bouquet. Add the meat back to the noodle soup, and add salt (and pepper if you desire) to taste.
Serve hot and enjoy!