This is a dish I fell head over heels in love with at first sight! Fitting for Valentine's Week, don't you think? The recipe is so perfectly Italian — lovely to look at, delicious enough to give "mangia!" new meaning, and though you swear someone must have been sweating in the kitchen for hours making these by hand, the truth is, it only took a few minutes to create these pasta dumplings. It was just recently that our friends Nicole and Telly had us over for a feast that would be unfair for me to describe. But what you should know is that the pasta course Nicole served was this frascatelli and rapini, and it is to die for. Even the little people ate theirs up and ran off to play with renewed vigor! So, I lasted a couple weeks before I began craving it and had to make my own. Not only was it so simple to make, but who knew semolina flour and water could be so much fun? Buon appetito!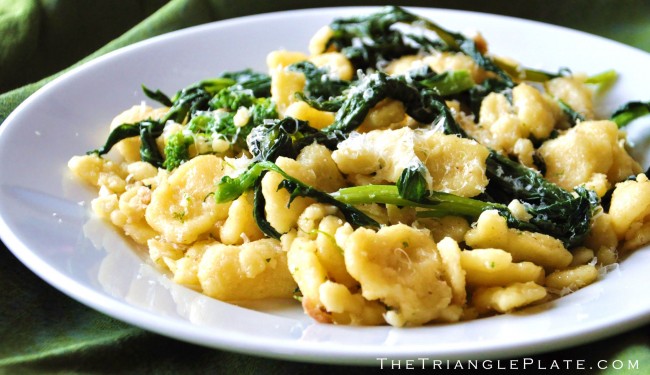 Frascatelli & Rapini
Recipe adapted from Bon Appétit, November 2012 issue
Note: This recipe serves 4. All credit to Nicole Topakas for tweaking the recipe to include garlic (OH YES) and rapini (in place of mustard greens). Brilliant!  
 Ingredients:
3-4 cups semolina flour
sea salt
1-2 bunches rapini (I used one bunch, but would have loved more greens, so next time I'll use two bunches!), leaves rinsed and largest parts of the stems removed
6 cloves garlic, sliced thin
regular olive oil
1/4 cup butter
grated Parmesano Reggiano
freshly cracked pepper
Preparation:
Spread the semolina flour in an 8×8 baking dish. Fill a small bowl with about 1 cup of water and set beside dish. Working in batches, gather your fingertips and thumb and dip into the water, lift your hand and then lower it over the semolina flour and release to form large splatters (about the size of a nickel/Euro 1 cent coin). Repeat several times until the surface of the semolina is well-splattered. Let the water set for 5 seconds, and then using a slotted spoon, lift the newly formed dumplings out of the flour, flip to coat in more semolina, and then use the spoon to shake of excess and lay the dumplings on a baking sheet. Repeat until all of the flour is used.
Meanwhile, have a pot of boiling water ready. Again working in batches, cook the dumplings in GENTLY boiling water for about 1-2 minutes until al dente. Scoop each batch out (this is more likened to fishing with a slotted spoon — be patient) and lay the dumplings on a fresh baking sheet.
As you are cooking the frascatelli, heat 1 Tbsp. of olive oil and 1 Tbsp. of butter in a large sauté pan over medium-low heat. Add the sliced garlic and let it cook until you can smell its aroma, about 1 minute.
Add the rapini to the sauté pan, and stir and turn (I like to use tongs for this job) until it begins to wilt, about 3-4 minutes. Add 1/4 cup of water and remaining butter to rapini and lower heat. Cover and let it cook, stirring frequently for about another 5 minutes.
Add all of the frascatelli to the rapini in the pan and turn heat back up to medium, continuously stirring with a metal spatula to incorporate the greens and keep the pasta from sticking. Once the pasta is heated well (with a golden toasty spot or two), serve topped with freshly grated parmesano reggiano and cracked pepper and enjoy!